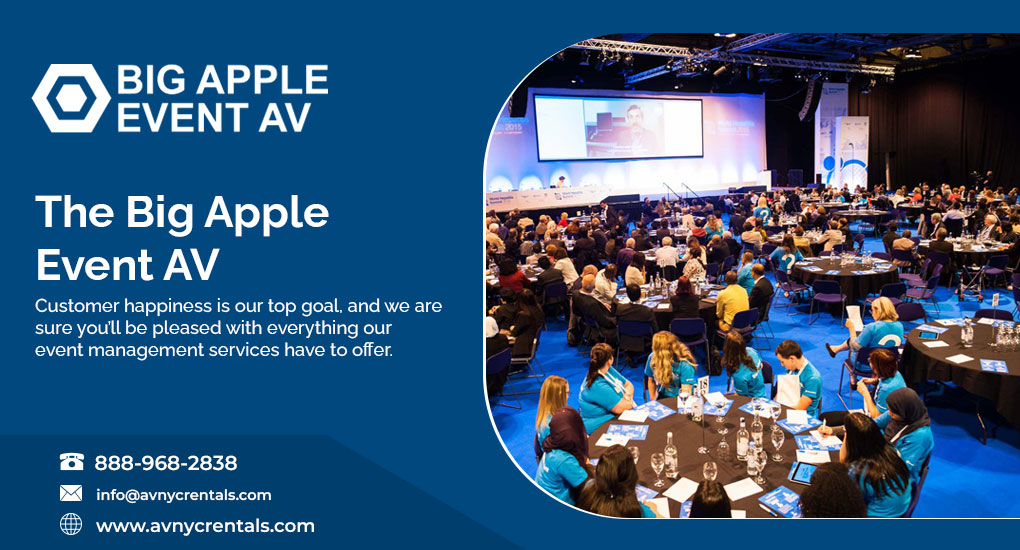 Nowadays, technology is the foundation of civilization, and it is necessary for every practical type of event. AV NYC Rentals provide a sizable selection of all the audio visual gear you would need online. In order to offer our clients the greatest items available, we thoroughly investigate all of the various audio visual equipment brands and types. We take great care of and maintain every piece of equipment we own, and we promise that on the day of your event, all of our audio visual equipment will be operational.
We provide a thorough consultation so we can evaluate all of your rental needs for audio visual equipment. We will bring and set up all of the AV Equipment Rentals NYC at your venue on the day of your event. Our expert technical support staff members are always on hand to answer any queries you may have and help you resolve any problems. We will return to the location following your event to disassemble and remove all rental equipment. Renting audio visual equipment is simple and stress-free with Audio Equipment Rentals New York.
What is the equipment available on the online website?
The best collection of audio equipment for hire is available in the Audio Visual Equipment Rental in New York City. For all of your event needs, we have a large selection of microphones, sound systems, speakers, DJ equipment, and mixers available for rental.
We are professionals at Video Walls Rentals New York City in a range of settings. Here comes the valuable equipment available online in New York City:
We rent out DJ equipment of the highest caliber at Meeting and Event Services in NY. To receive a free consultation on which product will best suit your needs, please contact us.
For your event's audio requirements, Speaker Systems Trade Show Services in New York City is a reliable source. We offer a wide selection of rental mixers, sound systems, and speakers to accommodate any audience size and venue size. New York City and the neighboring areas are eligible for consultation, delivery, and setup.
We can assist you with all of your rental microphone requirements. You can customize our enormous assortment of wired and wireless microphones to meet your requirements. For any size and configuration of your event, we can assist you in locating the ideal microphone. Give us your requirements, and we'll work with you to find a solution. We can meet your demands whether you intend to talk from a podium or are considering a wireless or hand-free microphone. For a free consultation, kindly contact us. Moreover, we provide speakers for your events.
Services
We offer Residential, Commercial, and Corporate Design and Installation services for Expert Audio Equipment Rental in New York City. Here comes the list of services provided by us online:
Systems for audio and video
Projectors
Boardrooms and business conference rooms
Visual Conference
Rooms for Corporate Training
cables and wiring
Installation across many sites and rooms
Hospital and automated systems
Rooms for Education and Training
Systems for Multi-Zone Media Control
Ecological Automation
Installation of an iPad or Android touch panel for a home theater
Control of Automated Lighting
Monitoring and Automated Security Systems
Automated Facility Environment and IT Management
Our company employs a team of expert experts with years of expertise in installing even the most complicated audio-visual systems.
Bottom Line
All of the major brands of Audio Visual Equipment are familiar to us, and we will finish the installation swiftly and expertly. Following installation, our staff members are glad to walk you through the operation of each piece of your equipment.